FAQ
---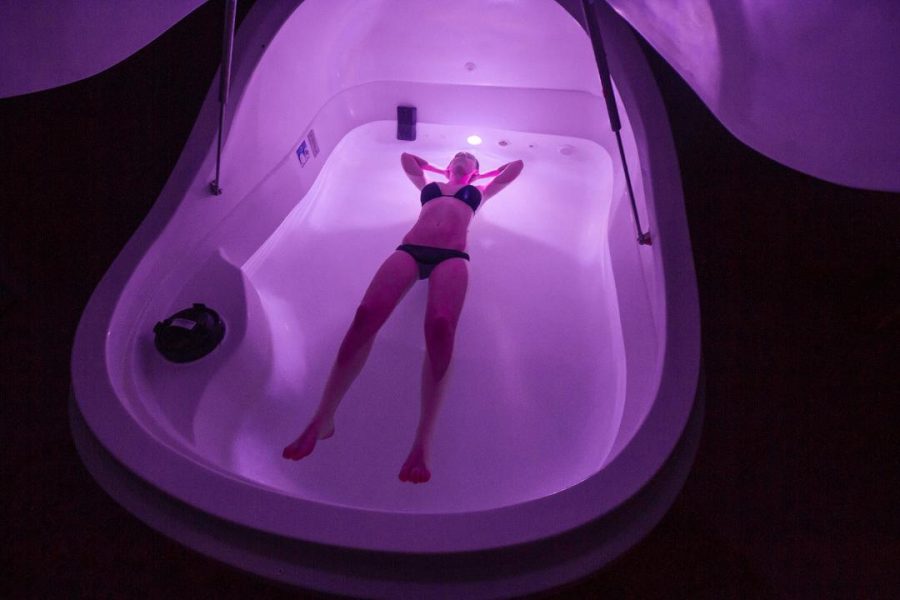 FREQUENTLY ASKED QUESTIONS
ABOUT FLOATING
What if I don't float?
In our pods we use 1000 pounds of Epsom salt which ensures enough buoyancy to float effortlessly.
What are the benefits of Float Therapy?
Physical Benefits:
– Deep Relaxation
-Theta Wave Production
-Increased Blood Circulation
-Increased Healing Ability
-Muscle Recovery
-Pain Management
-Increased Immune Function
-Enhanced Athletic Training
**Not to mention the benefits it will have on your skin.**
Mental Benefits:
-Stress Reduction
-Increased Creativity
-Increased Sensory Acuity/Reaction Time
-Sleep Schedule Maintenance
-Euphoric Feeling
-Reduces Anxiety Levels
For more information on these benefits, please visit our Benefits Page!
I'm claustrophobic. How can I use the Float Pod?
Guest's are in complete control of their float pod lid which may be left open or closed. Each Pod features a multi-colored LED light which is in the guest's control. A selection of music options—including the option to bring your own music are available for each session.
Each Float Pod also features a 2-way intercom connecting to the front desk should you need help or have any concerns during your session. We do our best to provide an experience and atmosphere to which all guests can be comfortable if there's anything we can do to make your experience more enjoyable please let us know.
Can I float while pregnant?
Yes! In fact, some of the greatest benefits of floating are experienced by pregnant clients, both physically and mentally.
Can I safely fall asleep?
Yes, we encourage guests to relax and doze off while in their Float Pod.
**Please note before booking your appointment you must not have had any hair colouring nor dying done to your hair within 2 weeks of your float session.**
What you need to know to prepare for your float:
Please avoid shaving, tanning and waxing within 24 hours of your float session.
No swimsuit is needed.
We provide everything that you need shampoo, conditioner, body wash and lotion, towels, and hairdryer are also offered as a complimentary service. The only item we do not provide are hairbrushes for sanitary reasons.
It is recommended to eat a light snack 30 minutes prior to your float (you don't want a grumbling stomach to be a distraction)
Try to refrain from drinking caffeinated beverages and other stimulants 1 – 2 hours prior to your float.
What if I get salt in my eyes?
The best practice is to avoid contact with your face. If this occurs, we provide a fresh water squirt bottle in each float pod as well as fresh hand towels.
Do you have a cancellation policy?
Yes, we do. To view our cancellation policy please click on this link https://stillwaterfloat.ca/index.php/refund-policy/